The Bachelor Death March

I thought it would be a great idea to have a seven mile run the morning of my wedding. Then I reconsidered and thought a six mile hike up Big Rock Ridge, the mountain behind my house, would be an even better idea. "Come on, it will be fun," I stated in my best sales-pitch voice. The hapless victims signed up with smiles on their faces:
Egil Krogh (my dad)
Roger Melton (his best friend)
Matt Krogh (my brother)
Greg Bouwens (my best friend)
Mike Stock (my other best friend)
Deke Lundquist (my first cousin and best friend)
Dan Carnesciali (another best friend)
Dave Fahrney (best friend)
Fred Liers (friend of bestness)
Stuart Nyman (new brother-in-law)

The one person who was missing was Adlai Burman, my best friend. Adlai had suffered a fall in Alaska (as well as the winter and spring, hahahaha!!!) and had a sprained ankle. He came to my house in the morning anyway and promptly fell asleep on my bed, forcing Susan to drive to a friend's house to get ready. OK, from this paragraph remember the part about Adlai's ANKLE.
We climbed. We ran. We trespassed. The weather was perfect: fog below, clouds up high, visibility about the length of a football field, high winds, clamminess, rain pellets, locusts, pestilence...
So on the way down Dan Carnesciali and I realized we had some unfinished business left over from high school. We had run together on the cross country and track teams (in the 70s!!) and never quite figured out who was faster. It was time to answer this question once and for all. We ran. We ran harder. We "accelerated." We rounded a bend, neck to neck and then... both gave up at the same time. Neither of us was in front. I would be happy to say that I destroyed poor Carn or he crushed me, but the truth is we'll have to wait at least ten more years before putting the question to the test again. Depressing.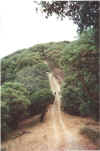 Also on the way down, my cousin and best friend Deke Lundquist decided to pull a Lewis and Clark and strike out on his own. The party zigged, Deke zagged. Finding himself deeper and deeper in the unfriendly forest, Dorothy tripped on a root and sprained his ANKLE. The party had reconvened at the bottom of the mountain. "Say, where's Deke?" "Yes, where's that Deke?" Matt, the hardcore thighs-of-titanium Everest climber self-elected himself to run back up and look for the Deke. Before Matt returned, Deke was pushed out of a CAR right in front of us. Don't ask me. I don't know. I carried him from there and have the picture to prove it:

What can I say. I can't think of a better way I could have spent my last moments as single man. And I can't think of a better group of guys to spend it with. For an anti-social outcast I have the best friends the world could deliver and I am lucky as hell they all came...
ALL PHOTOS COURTESY OF DAN CARNESCIALI